Rates Scenario
April 13, 2023 | 17:50
Rates Scenario for April 13, 2023
Economist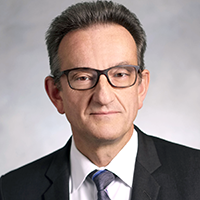 Deputy Chief Economist, Head of U.S. Economics and Managing Director
Economics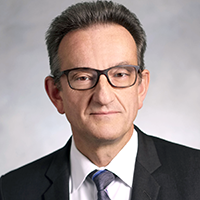 Deputy Chief Economist, Head of U.S. Economics and Managing Director
Economics
| | |
| --- | --- |
| Canada-U.S. Rates Outlook | Michael Gregory, CFA, Deputy Chief Economist |
Federal Reserve: On May 3, we expect the FOMC will raise the fed funds target range by 25 bps to 5.00%-to-5.25%, assuming economic and credit developments during the next three weeks don't strongly argue against it. At the time of writing, the move was mostly, but not completely, priced in (75% odds), with market expectations restrained by recent weaker economic data and slower inflation readings amid banking sector woes. Although we don't expect any more rate hikes after May's action, we judge the Fed will be a bit cagey about a prospective (and probable) pause.

We reckon March's forward guidance will be repeated (or possibly tweaked further to convey even more conditionality with respect to further rate hikes). Last month, the Fed altered the language in place since the tightening campaign began a year earlier. The eight-times-employed phrase that the Committee "anticipates that ongoing increases in the target range will be appropriate" was replaced by "anticipates that some additional policy firming may be appropriate". Chair Powell said to focus on the words "some" and "may" in the new phrase versus "ongoing" in the old guidance, in the context of rate hikes. The shift signalled more rate-hike conditionality given the uncertain impact of banking sector stress along with the lagged impact of tightening already in the hopper. Under this guidance, the Fed "may" opt to pause in June or continue with "some" rate hikes. Note that even if the Fed pauses, policy would still, technically, be "firming" as quantitative tightening continues.

It's still uncertain how much credit conditions will ultimately tighten (via the availability and cost of loans), and how much this tightening will ultimately dampen growth and inflation. However, it's important to keep in mind that, if not for the banking sector stress, March's Summary of Economic Projections would have probably signalled higher policy rates, compared to December's SEP, owing to stubbornly high inflation and strong labour markets. According to Powell, "the possibility of credit conditions tightening really, really offset that, effectively".
Apart from Powell's nod to the rate-hiking equivalence of tighter credit conditions, last month's SEP still turned up the hawkish tone. For example:

While this year's median projection did not change (still 5.125%), the mean forecast increased by 4.2 bps (assuming then-Vice Chair Brainard was one of the two lowest 4.875% December dots). This is equivalent to three participants lifting their forecasts by 25 bps. It appears that the hawks became more hawkish. Before, there were two 5.625% calls; now, there are three and one at 5.875%.

The median forecast for 2024-end increased by 0.125% with a full quarter-point move just one participant away. So, there's less expected easing next year.

The median forecast for real GDP growth was revised down for this year and next, with the projections for core PCE inflation revised up. This asymmetry followed December's theme, when GDP was also revised down with core PCE revised up. The FOMC was again acknowledging the stubbornness of inflation and the necessity of even more growth-dampening tightening to rein it in.

Meanwhile, although March's CPI and payroll growth readings slowed, they were still elevated, likely convincing most FOMC participants that their pre-banking-stress inclination to hike rates more than before is still justified. For example, the monthly moves in the core and supercore indices both slowed to 0.4% from 0.5%, resulting in yearly and three-month annualized changes still topping 5.0%. Results like these point to a May rate hike and a reticent pause signal (if at all).

Once paused, we look for the Fed to remain on hold for the rest of this year before starting to gradually cut rates early next year with the core inflation metrics on unequivocal trajectories to 2%. Once at 2%, the pace of policy rate normalization should pick up.

Bank of Canada: For the second consecutive meeting, the Bank kept the policy rate unchanged at 4.50% on April 12. The statement repeated that the Governing Council was prepared to raise "the policy rate further if needed to return inflation to the 2% target" and that it "continues to assess whether monetary policy is sufficiently restrictive to relieve price pressures". This "conditional pause" still sports a net tightening bias, but it may have softened just a bit owing to the Bank's economic outlook. Although the GDP forecast for this year was revised up owing to a stronger-than-expected Q1, growth is projected to be "weak" during the rest of the year (Governor Macklem: "You can't rule out that there's going to be a couple quarters of small negatives"), which will push the economy into "excess supply" in H2.

For the time being, the Bank appears to be quite comfortable in pause mode, focussing on how headline and core inflation unfold with a sharp eye on services price inflation, wage growth and corporate pricing behaviour. While the preferred core inflation metrics are running slightly under 5% y/y, the annualized three-month trends are closer to 3½%. And, rate cuts simply aren't on the Bank's mind with discussions still concentrated on "whether we've raised rates enough" and whether rates "may need to remain restrictive for longer". In commenting on market expectations for rate cuts later this year, Macklem said "that doesn't look today like the most likely scenario to us". We still expect gradual rate cuts to begin in January.

Bond yields: In March, 10-year Treasury note yields averaged 3.66% despite topping 4% early in the month. A '4 handle' appears to have become a beacon for bond buying, with the market perceiving the Fed is getting closer to pausing (we agree), which means rate cuts could soon follow (we don't agree). April is on track to average around 3.4%, but we expect yields to run at modestly higher levels through the early summer as the market's expectation for Fed rate cuts gets pushed back and core inflation proves to be more stubborn than the market currently gives it credit for. And, oil prices are back on an upswing. Meanwhile, we look for Canada-U.S. 10-year yield spreads to continue to hover around -50 bps in the months ahead.

U.S. dollar: Since the start of the year, the greenback has followed a sideways if not mildly appreciating pattern, as the Fed maintained a hawkish tone and global banking system concerns swirled. Meanwhile, news that China and Saudi Arabia would be transacting oil in yuan instead of dollars pumped the perennial (and overblown) narrative on ebbing greenback hegemony. We judge that once the Fed pauses (presuming there are no new flare-ups of geopolitical or global economic risk), the greenback will resume the downtrend that was unfolding last autumn. By year-end, we see the big dollar depreciating around 3½% y/y and a further roughly 2% next year.

Canadian dollar: Although the loonie averaged a rather weak C$1.386 in March (only the onset of the pandemic and the 2015-2016 collapse in oil prices saw weaker readings in recent years), the currency's tide has since turned. Currently, it's trading around the mid-C$1.33 range. Helping the rebound, the Fed is expected to soon join the BoC in pause mode and oil prices are back on the upswing. We look for this strengthening trend to continue with the loonie averaging around C$1.300 (US$0.769) by year-end and C$1.275 (US$0.784) by next December.
| | |
| --- | --- |
| Overseas | Jennifer Lee, Senior Economist |
Although global inflation remains above target, central banks are now assuming different stances in their approach to cool price pressures. Some are still hiking aggressively, others are moderating the pace of rate hikes, and others are simply finished.

The ECB is among those still in tightening mode. In the midst of the Credit Suisse (CS) affair, the central bank raised rates 50 bps to 3.50% (refi rate) at its March meeting, but dropped its forward guidance and emphasized its data-dependent approach. There was a minority in the Governing Council that wanted to stay on hold while the situation at CS played out, but agreed to back the 50 bp move after the SNB stepped in and offered its support. Financial markets have settled down since, but many members of the ECB already made public remarks about how the ECB's job is not finished and that there is more to do. Even Chief Economist Philip Lane warned that if their forecasts hold up, "absolutely there's more to do". It helps that headline inflation was slashed in March, but that was due to base effects; core CPI remains at record highs. In any event, the ECB remains data-dependent though we continue to look for rates to rise 25 bps both in May and June.

The BoE is also still in tightening mode, although perhaps to a lesser degree. With headline inflation still in double-digit territory, the majority of the MPC continues to lean toward more rate hikes, but is sandwiched between one extreme hawk and two extreme doves. The Bank has already begun to moderate its pace of hikes, slowing things down from 75 bps in November and December, to 50 bps in February, then 25 bps in March. The fact that the BoE lowered its inflation estimate helped the case. However, this was due in part to the extension of the energy price cap, which could actually fuel inflation, particularly now that the Bank no longer expects a technical recession. In any event, we are comfortable with our view that there will be one more final rate hike of 25 bps in May, which will bring Bank Rate to 4.50%.

For the first time in a decade, there's a new face at the helm of the Bank of Japan. There is a lot of pressure on the shoulders of Governor Kazuo Ueda, an MIT-educated academic who helped form Japan's zero rate policy and QE program. With inflation now running at 40-year highs, the new central bank head must deal with expectations that he will tighten monetary policy, but he will clearly not be pushed. Upon meeting with PM Kishida on the first day of his 5-year term, Governor Ueda declared that there was "no need for an immediate review" of the Bank's policies and that it was appropriate to continue with the yield curve control framework for now. However, with global 10-year yields down from their highs of late, there is less pressure on comparable JGB yields, so this would be a good time to widen the target band again around 10-year JGBs (perhaps from +/-0.50 ppts to 0.75 ppts), or eliminate it altogether. Then, raising rates out of negative territory could eventually follow. We expect this shift to be announced mid-year. Remember: if the Federal Reserve stays hawkish while the BoJ does nothing, the JPY will weaken, further heating up inflation.

The RBA took a surprising step back in April from ten consecutive rate hikes and decided to leave the cash rate at an 11-year high of 3.60%. After all, the "full effect" of the combined 350 bps of rate hikes have "yet to be felt", and there is a "range of information" out there that suggests inflation has peaked. And, the line in the Statement that "some further tightening... may well be needed" was noted, with the inclusion of the new word "some", and the phrase "may well be" replacing "will". But Governor Lowe made it clear that the pause does not mean that they are finished. In any event, we judge the RBA has at least one more rate to go, given that Australia's inflation rate of 6.8% is still more than twice the upper end of the RBA's 2%-to-3% inflation target. It is also possible we could see another 25 bps, followed by a mini-hike of 15 bps, just to return the cash rate to a level that can be more neatly adjusted by 25 bp increments.
Foreign Exchange Forecasts
You might also be interested in