Rates Scenario
January 12, 2022 | 15:59
Rates Scenario for January 12, 2022
Economist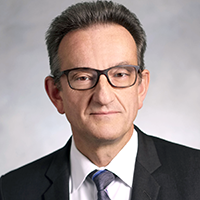 Deputy Chief Economist, Head of U.S. Economics and Managing Director
Economics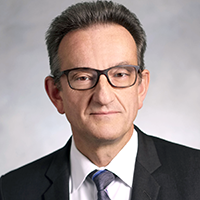 Deputy Chief Economist, Head of U.S. Economics and Managing Director
Economics
| | |
| --- | --- |
| Canada-U.S. Rates Outlook | Michael Gregory, CFA, Deputy Chief Economist |
Compared to our last Rates Scenario (Dec. 8), we pulled forward our lift-off forecast for the Federal Reserve by three months. We see rate hikes beginning in March and continuing at a 25-bp-per-quarter pace as before, but this results in an extra rate hike this year. The net risk is that March's move is delayed until May, should the surge in Omicron cases crimp spending and labour supply more than assumed, but this year's four rate hike tally would remain in place.

This means the Bank of Canada will not tighten before the Fed. As before, we see BoC rate hikes starting in April, with 25 bp moves in three consecutive meetings (in 2010 and 2017, the Bank also began with back-to-back hikes), before slowing to a 25-bp-per-quarter clip. The net risk is that April's action gets pulled into March, should Omicron cases back off quickly and restrictions are lifted.

Although lift-off timing is being influenced by the vagaries of the Omicron variant (and its associated restrictions and consumer reactions) on both sides of the border, inflation performance has been the dominant influencer during the past few months. Indeed, three months ago, our call was for lift-off in October for the BoC and February 2023 for the Fed. Since then, for example, the annual change in Canada's total CPI accelerated to 4.7% y/y for November from 4.1% in August, running at a 6% annualized rate in the latest three months. The annual change in America's total CPI accelerated to 7% in December from 5.4% in September, or a three-month annualized rate of 9.1%. Meanwhile, the Fed's preferred PCE price index and the key core metrics for both central banks have also all picked up.

Thematically, we look for headline inflation to soon peak if it hasn't done so already; winter temperatures and energy prices should have the ultimate say. Then, as the reopening-related pressures from last year wash out, inflation should begin to ebb. By year-end, we see total and core U.S. CPI inflation around 3½% with the annual change in the total and core PCE price indices around 3¼%. For Canada, we see CPI inflation and the average of the BoC's three core metrics running around 2¾%. All of these are above their pre-pandemic paces.

The net risk is for higher readings. A moderation hinges on supply bottlenecks easing and longer-run inflation expectations remaining restrained. Both central banks tightening sooner is a means to minimize the influence of high (and potentially higher) inflation prints on market expectations. Moreover, it's becoming increasingly clear that the inflation process is not going to be adequately checked unless the demand side is also curbed.

By the end of 2023, we see policy rates plateauing near the bottom of neutral levels: the 2.00%-to-3.00% range of projections among FOMC participants and the 1.75%-to-2.75% range for the Bank of Canada's estimates. Whether this is where policy rates cyclically peak will depend on whether the brandishing of inflation-fighting feathers does its job to bolster policy credibility and rate hikes do their job to tap the brakes on demand growth.

Federal Reserve: The December 14-15 FOMC meeting marked a major policy pivot. The tapering pace was quickened so that asset purchases or quantitative easing (QE) would end by mid-March instead of mid-June. This opened the door to rate hikes as early as March 16, a message we suspect the FOMC will emphasize in its policy pronouncements on January 26. The dot plot's median projection had three full rate hikes in 2022, compared to only half a hike before. All participants looked for lift-off this year (vs. 9 of 18 before). And, in the presser, Chair Powell revealed, surprisingly, that the confab began discussing the balance sheet.

The Minutes further revealed Committee comfort in commencing balance sheet runoff sooner than was the case in 2015-17. Back then, runoff began after 100 bps of tightening (which took much longer to occur because of global economic and financial developments). In the nomination hearing on January 11, Powell said runoff would probably start later in the year, and it could take few meetings to hammer out the quantitative tightening (QT) details. Like the previous episode, the FOMC will probably establish an initial monthly cap, above which all maturing securities will still be rolled over, and then increase the cap regularly over a time period until it reaches its final level. With securities holdings totaling $8.3 trillion (and still increasing until March), which is almost double 2017's amount, we expect a higher monthly cap (at least $15 billion vs. $10 billion before) that will increase regularly over a shorter period (<12 months) to a higher final level (at least $75 billion vs. $50 billion).

Bank of Canada: After taking a hawkish turn on October 27 (QE ended and the forward guidance was tweaked to set the stage for lift-off as early as April), the Bank's December 8 announcement could be characterized as a policy placeholder. However, the statement's last sentence was tweaked. The "continue to" part of October's statement-ending "we will continue to provide the appropriate degree of monetary policy stimulus to support the recovery and achieve the inflation target" was dropped. This was a tiny but very visible change, perhaps indicative of policy changes occurring early this year. While we are not expecting any changes on January 26 (same day as the Fed) owing to growth-dampening Omicron restrictions, we're expecting hints about March 2 being on the table and more so for April 13.

With QE ended, on October 27, Governor Macklem said the Bank would remain in reinvestment mode "at least until we raise our policy interest rate" and how soon QT started afterwards would "depend on the strength of the recovery and the evolution of inflation". We anticipate balance sheet reduction will start in the second half of the year but, because bond maturities are "lumpy", the Bank won't be able to rely solely on attrition like the Fed; select outright sales and other technical maneuvers will eventually be required.

Bond yields: In the wake of the Fed's policy pivot, Treasury bond yields have risen at least 20 bps along the curve, with 10-years leading the charge (up almost 30 bps) to top 1.75%. This is the highest level in two years and a test of 2% is in the cards. We look for 10s to trade steadily at or above 2% once the Fed has a few rate hikes under its belt and balance sheet runoff has started. The curve (2s/10s) should flatten further as rate hike expectations are realized.

Before Chair Powell first began to hint of a policy shift in a November congressional testimony, Canada-U.S. bond yield spreads had mostly been trending more positive along the curve, reflecting the BoC's relatively more hawkish stance. While shorter-term spreads simply moved more positive, 10-year spreads shifted from negative to positive (as high as about 15 bps), as government funding pressures also weighed. Apart from the temporary knee-jerk reaction at the onset of the pandemic, such positive spreads haven't occurred on a sustained basis since late 2012. However, they slipped back into negative territory as the Fed turned more hawkish; short-term spreads moved less positive. With the Fed and BoC now on comparable (but not identical) rate hike and QT schedules, we look for spreads to roughly stabilize.

U.S. dollar: Despite the global surge in COVID-19 cases, the trade-weighted index has been trending mildly weaker since hitting near 14-month highs at the end of November. Omicron does not appear to be compounding market-perceived global economic risks as Delta and other variants did. Indeed, the greenback would probably be even weaker if not for the Fed's policy pivot. We expect the latter to be an important driver of the dollar this year, trumping any shift away from the acute phase of the pandemic. Compared to current levels, we see the index averaging almost 2% stronger by the end of the year.

Canadian dollar: Again, with the Fed and BoC on comparable rate hike and QT schedules, we suspect the loonie will benefit from the ebbing of market-perceived global economic risks, along with sturdy oil prices and solid trade and current account fundamentals. We see the currency averaging around C$1.235 (US$0.81) by year-end.
| | |
| --- | --- |
| Overseas | Jennifer Lee, Senior Economist |
It is a new year, complicated by a new variant, but most central bankers are picking up where they left off... removing accommodation, albeit in varying degrees. Some have been raising rates in quick succession (Brazil, Mexico); some are a bit slower but are still moving in the same direction (New Zealand, Norway, South Korea). Some are leaving rates alone but have tweaked other policies, such as Australia. The RBA isn't planning to raise rates until 2023, at the earliest, but it dropped its yield curve control policy in November, citing "improvement in the economy and the earlier-than-expected progress towards the inflation target".

The BoE is another bank that is picking up where it left off. After massively disappointing markets in November by staying the course, the central bank raised its Bank Rate 15 bps to 0.25% in December and, given the vote itself (only one policymaker dissented but said that if it wasn't for the Omicron variant, a hike would have been appropriate), a 25 bp hike in February is widely expected. The labour market remains very tight (jobless rate at a 1½-year low, job vacancies at a record high), and inflation pressures persist (CPI at a decade-high) as supply problems have not gone away. Combined, these threaten the medium-term inflation outlook, and suggest the BoE could raise rates about three times this year.

Higher-than-expected inflation is also backing the ECB into a corner. Euro Area inflation surprisingly picked up further in December, hitting 5%, more than doubling the central bank's 2% target and the fastest pace in thirty years of records. This may throw a wrench in the ECB's plans to tap into the Asset Purchase Plan (APP) and continue buying bonds this year, even as the PEPP winds down in March. The hawks are starting to become more vocal with their warnings about the upside risks to inflation. It is not just the Bundesbank now, and its new head, Joachim Nagel, along with Austria and the Netherlands. Add in Belgium, Lithuania, and Finland. It is still not a majority, but they have some pretty strong arguments. Rate rises may not be a 2022 story but, at the very least, President Lagarde will need to determine how much longer the APP needs to run, and defend the open-ended "for as long as necessary" timeframe. It is possible, depending on how long inflation stays stubbornly high, that the ECB will not stick to its current plan for the APP, either in terms of quantity or timing.

Then, there is the BoJ. Although monetary policy remains ultra-loose, it will allow an emergency funding programme to wind down, as scheduled, in March 2022. The programme allows the central bank to buy additional corporate bonds and paper, but given improved financial conditions, it is no longer needed. It did, however, extend a special lending program for small and medium-sized firms impacted by COVID by six months, so it will run until September. But the BoJ's highly accommodative stance has legs.
Foreign Exchange Forecasts
You might also be interested in