Rates Scenario
August 11, 2022 | 15:40
Rates Scenario for August 11, 2022
Economist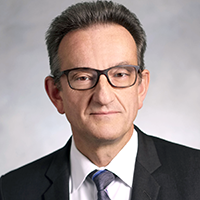 Deputy Chief Economist, Head of U.S. Economics and Managing Director
Economics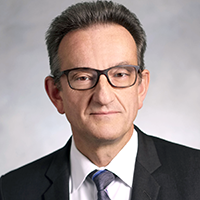 Deputy Chief Economist, Head of U.S. Economics and Managing Director
Economics
| | |
| --- | --- |
| Canada-U.S. Rates Outlook | Michael Gregory, CFA, Deputy Chief Economist |
Compared to our last Rates Scenario (July 6), we've raised our year-end projections for Federal Reserve and Bank of Canada policy rates by 25 bps to the 3.50%-to-3.75% range, in the wake of aggressive moves by both central banks (see below). As policy tightening and inflation's purchasing power erosion take increasing tolls on private final domestic demand (consumer spending, business investment and housing), we expect real GDP growth to stall through the turn of the year on both sides of the border.

However, we still look for the Fed and BoC to remain on hold through next year as they assess the lagged impact of their past tightening actions on inflation. We judge there'll be enough progress made to forestall further rate hikes but not enough to encourage rate cuts until early 2024. In both economies, we see the key inflation measures still running above 3% by the end of next year. However, the net risk is for even higher policy rates through the turn of the year, resulting in likely recessions and rate cuts commencing in 2023.

Federal Reserve: The Fed's pair of 75 bp rate hikes at the June and July meetings represented the largest two-month moves in at least 40 years, designed to address the fastest inflation rates in similarly four decades. The fed funds target range (2.25%-to-2.50%) now includes the FOMC's median projection of the neutral rate (2.50% within a 2%-to-3% band). And, with evidence that the economy is weakening (e.g., back-to-back quarters of negative real GDP growth), we reckon the Fed can rein in future rate hikes, say to 50 bp increments, as it moves to a "moderately restrictive" stance. For all FOMC participants, this means policy rates at least above 3%. For most of them, it's a 3.25%-to-3.50% target range by the end of this year and a further net 25-to-50 bps of tightening by the end of next year. After a pair of 50 bp rate hikes (September 21, November 2), we see the Fed ending 2022 with a 25 bp action (December 14), with the target range at 3.50%-to-3.75%.

Meanwhile, the FOMC will ramp up its quantitative tightening (QT) effort on September 1, doubling the monthly roll-off caps to $60 billion for Treasury securities and $35 billion for MBS. With the flexibility provided by a $326 billion portfolio of T-bills for the months in which all other maturities combined don't measure up, it will be easy to stick to the $60 billion. But with slower housing sales and less refinancing activity constraining MBS principal payments, the $35 billion will be hard to hit (payments have run in the $12 billion-to-$13 billion range in the past two months). We judge the Fed will likely start outright MBS sales sooner rather than later, if it wants to meaningfully shrink MBS holdings, with the recent slip in 30-year mortgage rates below 5% (after peaking above 5.80%) providing encouragement. QT should continue through to mid-2024, with an eye on the level of reserves in the banking system.

Bank of Canada: The BoC shocked with a 100 bp rate hike last month, the largest single action since 1998, and stated that "rates will need to rise further". Like the Fed, the past two months have seen 150 bps of tightening, raising the policy rate to the 2.50% midpoint of the 2%-to-3% neutral range estimated by the Bank. Against the background of headline inflation also running around 40-year highs, reflecting concerns about longer-term inflation expectations becoming unanchored and a potential wage-price spiral, the Bank argued it was necessary to "front-load the path to higher interest rates". Governor Macklem stated rates are headed to the "top end or slightly above the neutral range", which we now reckon is 3.50%. We look for a 50 bp rate hike on September 7, followed by a pair of 25 bp actions (October 26, December 7). However, given the front-load talk, these could be compressed into fewer meetings. Meanwhile, full roll off (no cap) QT continues.

Bond yields: The prospects for higher Fed policy rates and faster inflation rates lasting for longer, along with diminished global economic and geopolitical risks, are generally bad for bonds. These were mostly behind the recent peak in 10-year Treasury yields on June 14 at almost 3.50% (oil had been topping $120). The next day, the Fed surprised with a 75 bp rate hike and signalled that fighting inflation trumped avoiding recession from a policy perspective. This signal, and the follow-up 75-er, pumped longer-term prospects for Fed rate cuts, meaningfully slower inflation and recessions both at home and abroad. These are good for bonds; 10-year yields hit recent lows of 2.60% to begin August (oil temporarily slipped below $90).

In the tug-of-war between these two sets of prospects, the 'longer-term' side is dominating; yields are currently trading around 2.80%. However, heading into year-end, we judge the other side will make it more of a stalemate, moving yields just above the 3% mark. But such yield levels are unlikely to last much into 2023. Meanwhile, we look for Canada-U.S. 10-year yield spreads to remain in a range around -10 bps.

U.S. dollar: On a monthly average basis, the trade-weighted greenback hit its second highest level on record in July, surpassed only by the pandemic spike in April 2020. This was partly driven by the Fed's aggressive policy approach, particularly relative to other major central banks, and escalating global economic and geopolitical risks. But with other central banks jumping on the tightening bandwagon, and sometimes aggressively in their own right, the big dollar has started to lose some of its lustre. While global recession concerns should still provide lingering support, we see the U.S. dollar drifting weaker by around 1% over the remainder of this year and a bit more next year.

Canadian dollar: Amid the U.S. dollar's strengthening, the loonie has been trending weaker. In July, it averaged C$1.294 (US$0.773), the lowest level in 21 months. Presumably, if not for the Bank of Canada's Fed-like policy aggressiveness or stronger commodity prices (the stuff of persistent trade and current account surpluses), the Canadian dollar would be even weaker. With the greenback reversing slightly, we see the loonie doing the same. We look for the Canadian dollar to strengthen slightly, averaging C$1.275 (US$0.743) by the end of this year (appreciating about 1½%) and C$1.25 (US$0.80) by the end of 2023 (2%).
| | |
| --- | --- |
| Overseas | Jennifer Lee, Senior Economist |
A key phrase that's trending among central bankers is "we are not on a pre-set course". That makes complete sense these days, with still plenty of uncertainty surrounding the Russia/Ukraine war and the fallout from high energy and food prices, along with sporadic lockdowns in China.

The Bank of England was one of the recent users after it raised rates 50 bps to 1.75% at its meeting in August. Sure, all but one of the nine members on the MPC voted for the biggest hike since February 1995. And sure, it raised its expectation on inflation once again as it looks for CPI to hit 13.3% in October (which is much higher than previous calls of around 8% back in February, 10.2% in May, and "slightly above 11%" in June). However, like everywhere else, growth is slowing. And, unlike everywhere else, a recession has been officially expected by the central bank for some time. The latest line from the press statement was that the U.K. "is now projected to enter recession" in Q4, and consumer spending is expected to turn negative as incomes will "fall sharply" in 2022 and 2023. With such projections, it makes sense to take it one meeting at a time. As the August Monetary Policy Summary states, "Policy is not on a pre-set path." However, the relentless reminders from Bank officials that "the inflation target applies at all times", in the face of all of these economic headwinds, suggests that the MPC will be front-loading rate hikes, which makes us now lean towards another 50 bp hike in September.

The RBA has been steadily raising rates since the spring, with the last three meetings each seeing 50 bp moves. But even this central bank declared in early August that its path to normalization of monetary conditions was "narrow" and "clouded with uncertainty". Specifically, the behaviour of household spending was a "key source" of that uncertainty. Although Governor Lowe and the Reserve Bank Board expect to continue taking "further steps" towards normalizing policy, the RBA is "not on a pre-set path".

The specific key phrase wasn't used by the ECB, but President Lagarde clearly stated the same intent in July with different words. "We are not offering forward guidance of any kind.... there is no such thing." The latest press conference had a strong emphasis on data dependence, with the intent to keep raising rates "progressively" to the mysterious "neutral setting", whatever it is. Now that the ECB has left the world of negative rates behind with its across-the-board 50 bp hike in July, a move that was unanimously backed, BMO looks for a like-sized move in September as inflation continues to surprise on the upside (most recently, the Euro Area's CPI hit a record 8.9% in July). There is a risk of a larger 75 bp move, which would help the currency, with the unofficial rationale being that everyone else is doing it. There have been certainly enough hints or push from the hawks to put such a move under consideration. The new staff projections for GDP and CPI that will accompany the statement will be examined closely. Look for downward revisions to growth, but how the near-term outlook for CPI will be treated will be interesting.

Finally, the BoJ has refused to budge from the sidelines. Even with the loss of its most dovish member, Goushi Kataoka, whose term ended last month, the Bank's leanings are unlikely to change. At its most recent meeting in mid-July, when the BoJ downgraded the growth forecast, and raised the call for CPI, Governor Kuroda was crystal clear. "We have no intention at all of raising rates under the yield curve control framework. We also have zero intention of expanding the 0.25% range on either side of the yield target. Right now, we need to continue to tenaciously pursue monetary easing." Understood.
Foreign Exchange Forecasts
You might also be interested in