Rates Scenario
September 08, 2022 | 13:36
Rates Scenario for September 8, 2022
Economist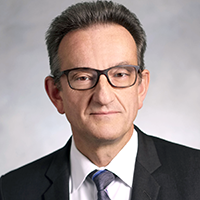 Deputy Chief Economist, Head of U.S. Economics and Managing Director
Economics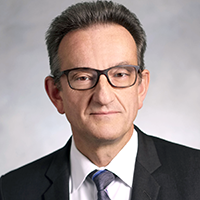 Deputy Chief Economist, Head of U.S. Economics and Managing Director
Economics
| | |
| --- | --- |
| Canada-U.S. Rates Outlook | Michael Gregory, CFA, Deputy Chief Economist |
Compared to our last Rates Scenario (August 11), we've raised our year-end policy rate projections by 25 bps for both the Federal Reserve and the Bank of Canada, to the 3.75%-to-4.00% range and 3.75%, respectively. This reflects recent stronger-than-expected economic data (e.g., the U.S. employment report), hawkish central bank rhetoric (e.g., the BoC's policy announcement, Fed Chair Powell's Jackson Hole speech) and, despite relief for headline inflation from lower petroleum prices, still stubbornly high core inflation and wage growth trends.

As cumulative policy tightening increases, we look for real GDP growth to stall through the turn of the year on both sides of the border, but (now more tenuously) still manage to avoid a full-blown recession. Amid this 'growth recession' background, we expect the Fed and BoC to remain on hold next year, assessing the impact of this year's tightening actions on inflation. We judge there'll be enough progress made to forestall further rate hikes but not enough to encourage rate cuts until early 2024. In both economies, we see the key inflation metrics still running above 3.00% by the end of next year (but on a clear track to 2%). However, the net risk is for policy rates to push into the 4% range, which would likely trigger full-blown recessions and rate cuts commencing in 2023.

Federal Reserve: In his seminal speech on "Restoring Price Stability" (March 21), Chair Powell first alerted that policy rates were likely going to be raised "aggressively" to at least neutral levels. Five months later, along with 200 bps of tightening over three meetings that left the policy rate around its 2.5% median projection of neutral (fed funds target of 2.25%-to-2.50%), Powell delivered a terse sequel from Jackson Hole on August 26. He said, "restoring price stability will likely require maintaining a restrictive policy stance for some time. The historical record cautions strongly against prematurely loosening policy." Powell added, "reducing inflation is likely to require a sustained period of below-trend growth" and "while higher interest rates, slower growth, and softer labor market conditions will bring down inflation, they will also bring some pain to households and businesses."

Powell also mentioned that the size of the September 21 rate hike "will depend on the totality of the incoming data and the evolving outlook." Following two consecutive 75 bp actions, markets are pondering the prospects of a third versus a slowing to 50 ("it likely will become appropriate to slow the pace of increases"). We had been in the 50 bp camp but have now shifted to 75.

Apart from Powell's more hawkish rhetoric, a catalyst was August's employment report. Payroll jobs increased a respectable 315,000 with the jobless rate rising a couple tenths to 3.7% only because the participation rate rose by three-tenths to 62.4%, still far from any 'pain-inflicting softening'. Meanwhile, average hourly earnings for production and nonsupervisory employees increased 0.4%, lowering the annual change a tenth to 6.1% y/y, which is the 11th consecutive reading in the 6% range (spot the trend?). Apart from the pandemic-related spike in April-May 2020, the latest results are still the highest in 40 years. Note that the CPI report on September 13 still packs the power to pare the rate hike to 50 bps if there's a sufficiently subdued reading for the core component.

Bank of Canada: The BoC raised its policy rate 75 bps to 3.25% on September 7 (as broadly expected), now sitting "slightly above" the Bank's estimated neutral range of 2.00%-to-3.00%. This is where Governor Macklem indicated rates could be headed in the wake of July's 100-bp hike. And, the Bank doesn't intend to stop or pause here.

The policy statement said that interest rates "will need to rise further." And, that the Governing Council will be "assessing how much higher interest rates need to go." We're leaning to a 50 bp action in October (from just one 25 bp move before), given the statement's focus on inflation. It noted "a further broadening of price pressures, particularly in services", while core inflation "continued to move up". And, the economy "continues to operate in excess demand and labour markets remain tight." Full roll off (no cap) quantitative tightening continues.

Bond yields: The day before the Fed surprised with a 75 bp rate hike on June 15, 10-year Treasury yields (constant maturity) peaked at almost 3.50%, the highest level in more than 11 years, as crude oil prices recently topped $120/bbl. In the wake of back-to-back 75ers, yields troughed at 2.60% to start August (with oil under $100). The bond market saw higher risk of recession, faster disinflation and a sooner policy rate reversal in the largest two-month rate hike in at least 40 years.

Since then, yields have backed up above 3.25%, despite Fed talk about another "unusually large" rate hike later this month. But now there are also raised prospects for policy rates remaining higher for longer, which proffers unfriendly front-end arithmetic for longer-term yields. Meanwhile, beginning this month, the FOMC has doubled the size of its monthly quantitative tightening to $60 bln for Treasuries and $35 bln for MBS. And, despite oil now being under $90, stubbornly-high core inflation and wage growth trends could be weakening the market's conviction in its faster-disinflation/sooner-policy-rate-reversal narrative. In any event, we still look for 10-year Treasury yields to average around 3.10% this December, compared to 2.90% last month, before heading further down as 2023 unfolds. And, we expect Canada-U.S. 10-year spreads to remain in a range around minus 10-to-15 bps.

U.S. dollar: On a monthly average basis, the trade-weighted greenback hit its second highest level on record in August, surpassed only by the pandemic spike in April 2020, after doing the same in July. These extremes are partly driven by the Fed's relatively aggressive policy approach, along with escalating global economic and geopolitical risks (Europe's rising recession risk due to skyrocketing natural gas prices let alone its availability, the Ukraine war, China's lockdowns). These risks aside, we reckon as soon as Fed rate hikes are reduced and then stopped, the greenback will lose much of its lustre. We look for the big dollar to depreciate about 3% next year.

Canadian dollar: Amid the U.S. dollar's strengthening, the loonie has been trending weaker. In July and August, it averaged over C$1.29 (under US$0.775), for the first time since the autumn of 2020. Presumably, if not for the Bank of Canada's Fed-like policy aggressiveness or Canada's improved trade and current account balances, the loonie would be even weaker. With the greenback reversing course next year, we expect the Canadian dollar to do the same but not before averaging C$1.30 (US$0.769) in December. We look for the loonie to average C$1.26 by the end of next year (appreciating 3%).
| | |
| --- | --- |
| Overseas | Jennifer Lee, Senior Economist |
"Forceful" and "front-load" are the two "f" words that have been in full use over the past month. And that is exactly what most central banks have been doing: using their policy tools with force, front-loading rate hikes as inflation surges to record highs.

Europe is a case in point, where inflation is poised to hit double-digits. The ECB lifted its key rates 75 bps in September, raising the deposit rate to 0.75%, the refi rate to 1.25%, and the marginal lending facility to 1.50%. President Lagarde remained guarded in her comments, emphasizing that all decisions will be made on a meeting-by-meeting basis and will be data-dependent, but the risks to growth are to the downside and the risks to inflation are to the upside. The central bank is a long way from the terminal rate, and interestingly, the ECB head said it will take more than two meetings, but fewer than five, to get there. Accordingly, we look for the removal of monetary accommodation to spill into early 2023, following another 75 bp hike in October and another 50 bps in December.

Meantime, U.K. inflation has soared to double-digit territory. At 10.1% in July, that is the highest reading since February 1982 and 5x the official 2% target. This is not over yet, as British energy bills are set to soar in October once the cap on domestic energy prices is lifted. Rinse and repeat in 2023. And it is not just energy: core CPI is up 6.2% y/y, the second fastest pace since 1992. However, PM Truss' team estimates that her new "energy price guarantee" plan will take 5 ppts off inflation, but that is no guarantee. In any event, the British economy already shrank in Q2 and will likely continue to do so, entering the recession that the BoE warned of in August. And yet, the tightening will continue if inflation expectations become embedded. The Bank has been steadily raising rates at each meeting since last December, although the decision has never been unanimous. Don't expect things to be any different at the September meeting. We look for the majority of the MPC to push for a 75 bp hike (the biggest move since 1989) to a 14-year high of 2.50%. That will not be it, as the central bank will likely push rates to the 3.5%-to-4% range, unless the new PM's plan is able to keep a lid on inflation.

In Australia, headline CPI has been above the 2%-to-3% target range for five consecutive quarters. Not only was the latest reading of 6.1% in Q2 the fastest pace since 1990, but the core metrics also picked up steam. Meantime, the economy has been growing steadily (+3.6% y/y), the jobless rate is at its lowest level since 1974 (at 3.4%) and wage growth is on the rise. Although household spending is "an important source of uncertainty", the RBA has raised rates 225 bps so far this year, with the last four moves at 50 bps each. The cash rate now stands at 2.35%, the highest since 2015. The central bank insists that it is "not on a pre-set path", but it is notable that the September press statement mentioned on two occasions the Board's commitment to returning inflation back to target and that it will "increase interest rates further over the months ahead". We look for the RBA to continue raising rates over the remainder of the year, but it cautioned that "the case for a slower pace of increase in interest rates becomes stronger as the level of the cash rate rises."

The BoJ continues to stand out, remaining on the sidelines as its counterparts tighten policy aggressively. This independence is obvious when looking at the currency. The JPY is the worst performing major currency so far this year, plunging 20% YTD against the greenback. (Note that the JPY hit ¥145 this week, the weakest level since August 1998.) However, Japan has not been immune to higher prices: its headline inflation rate has been above the 2% target for four straight months, and the "core core" CPI may be only at 1.2%, but it is the highest since 2015. Regardless, the central bank is staying on the sidelines. Governor Kuroda, speaking from Jackson Hole in late August, said "we have no choice other than continued monetary easing until wage and prices rise in a stable and sustainable manner."
Foreign Exchange Forecasts
You might also be interested in