Rates Scenario
April 06, 2022 | 15:19
Rates Scenario for April 6, 2022
Economist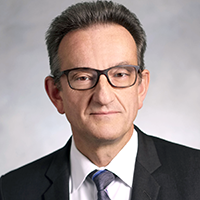 Deputy Chief Economist, Head of U.S. Economics and Managing Director
Economics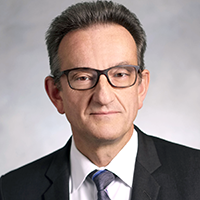 Deputy Chief Economist, Head of U.S. Economics and Managing Director
Economics
| | |
| --- | --- |
| Canada-U.S. Rates Outlook | Michael Gregory, CFA, Deputy Chief Economist |
Since our last Rates Scenario (March 8), we've lifted our profile for Federal Reserve and Bank of Canada policy rates by 50 bps and steepened the initial climb with back-to-back 50-bp actions. Afterwards, rate hikes continue each meeting but at a quarter-point pace until they reach around the bottom of their respective neutral ranges. For the Fed, that's 2.375% by December (the median of the 2.00%-to-3.00% range of projections among FOMC participants). For the Bank, that's 1.75% by July (the bottom of the 1.75%-to-2.75% range it estimates).

At that point, we look for both central banks to become a bit more cautious, hiking rates every second meeting until they near the top of their neutral ranges. Part of the caution reflects the fact that 2.375% and 1.75% mark the peak in policy rates from 2018, with the former proving to be somewhat onerous and forcing the Fed to lower them slightly during the latter part of 2019 (the Bank kept rates unchanged). For the Fed, the policy rate terminus is 2.875% by June 2023 and for the BoC, 2.50% by April 2023.

Our forecast changes were prompted by the amped up hawkish tones in recent major 'policy signalling' speeches. On March 21, Fed Chair Powell's was powerfully titled "Restoring Price Stability", meaning the U.S. economy no longer had it and the Fed was going to get it back. How? By moving "expeditiously to return the stance of monetary policy to a more neutral level." And, if appropriate, by hiking rates "more than 25 basis points at a meeting or meetings", along with tightening "beyond common measures of neutral and into a more restrictive stance." On March 25, BoC Deputy Governor Kozicki said: "We have taken action [25 bp rate hike on March 2] and will continue to do so… and we are prepared to act forcefully." Kozicki specified that "the pace and magnitude of interest rate increases" would be "active parts of our deliberations at our next decision."

Both officials cited the same trifecta of factors for their quickened quest to neutral: inflation (both "too high"), labour markets (BoC: "tight"; Fed: "very strong and extremely tight"), and demand (BoC: "considerable momentum", Fed: "strong"). And, in the wake of the global inflationary salvo fired by Russia's invasion of Ukraine, and amid emerging domestic evidence of increasing inflation expectations and behavioral changes, the net risk to our outlook is still for an even loftier profile with more than a pair of back-to-back 50s.

Federal Reserve: On March 16, the FOMC raised rates 25 bps (as telegraphed by Powell, no less) and signalled "ongoing increases". In the Summary of Economic Projections (SEP), the median projection for the target range had another 150 bps of tightening over six meetings by the end of 2022, with another 87.5 bps projected for 2023. To show how much Fed sentiment has changed, in December's SEP, cumulative tightening weighed in at 150 bps split evenly between the two years. We suspect the moves toward more front-loaded hikes and more cumulative increases has since continued.

On the quantitative tightening (QT) front, Powell surprised: "We're now in a position to finalize and implement that plan so that we're actually beginning runoff at a coming meeting." That put next month in play. Corroborated since by other Fed officials, the plan could be published on May 4 with an announced start two weeks after. Last time, the plan was published on June 14, 2017 and at the next meeting (July 26), signalled it would start "soon", with runoff beginning early October after being announced two weeks earlier on September 20. The 3½-month timeline from before could be shrunk to just a couple of weeks. But this isn't the market's first QT rodeo. The Minutes of the March policy meeting revealed a general agreement to shrink the balance sheet much faster than in the 2017-19 period, around double the rate ($95 bln per month versus just under $50 bln) and hitting that peak within three months instead of 12 months.

Bank of Canada: As mentioned above, we're bracing for a 50 bp rate hike on April 13. In addition to the "pace and magnitude" of rate hikes being deliberated at this meeting, Deputy Governor Kozicki indicated the "start of QT" would also be an active part. Since October, the BoC has been buying $4-to-$5 bln/mth to keep its holdings of Government of Canada bonds unchanged. The purchase pace was calibrated to match the large and unevenly spaced maturities over time. Governor Macklem has already said when QT starts "we will stop purchasing" and allow "full run-off". We're also bracing for this announcement on April 13.

Bond yields: In early April, 10-year Treasury yields (constant maturity) hit their highest level (over 2.5%) since April 2019, as market speculation about an early start to QT swirled. And it's gotten there very quickly. Between March and the first few days of April, the more-than-70-bp yield spike is the biggest since late 2010, over a comparable interval. This suggests that in the bond market's perennial tug-of-war between the downside risks to economic growth (from the pandemic, Russia-Ukraine war, inflation and Fed tightening) and the upside risks to inflation (from the pandemic, Russia-Ukraine war, inflation expectations, and excess savings and liquidity), the latter side may be gaining the upper hand for now. We look for 10-year yields to hit 3% as policy rates peak by mid-next year.

At the start of the month, the Treasury yield curve inverted, with 2-year yields topping those on 10 years, but it lasted for only a couple of days (so far). With the yield curve now inherently much flatter than in past tightening cycles owing to lower neutral policy rates, the Fed's adoption of inflation targeting and the legacy of quantitative easing, the reliability of this well-worn recession signal is not what it used to be. But, ignore it at your own peril.

There's a tug-of war unfolding for Canada-U.S. yield spreads as well, aside from the vagaries of global investors' risk appetites. On the tightening side (which, in most cases, means moving more negative), the U.S. has a more pressing inflation problem and the Fed is going to be hiking rates more than the BoC. On the widening side, there's a risk the Bank's QT could weigh more heavily on Government of Canada bonds than the Fed's on Treasuries.

U.S. dollar: The (trade-weighted) unit hit 18-month highs early last month but has since drifted down more than 1½% as other major central banks have also dialed up their hawkish rhetoric. The recent COVID-related restrictions in China remind us that the risks to global economic performance from the pandemic remain, now augmented by those posed by the Russia-Ukraine war. As these risks flare, they should continue to buttress the greenback. Meanwhile, with the Fed expected to tighten more aggressively (via rate hikes and QT) than most other major central banks, we look for the dollar to rebound, averaging around recent highs by year-end.

Canadian dollar: In recent days, the loonie tested its strongest level of the year, at just under C$1.25, as the big dollar has backed off. The currency could also finally be garnering some support from a still-favourable commodity price backdrop. Despite an expected rebound in the greenback, a continue 'catch-up' to commodity prices, solid trade and current account fundamentals, and a Bank of Canada tightening just as ardently as the Fed should help the loonie continue drifting stronger, averaging around C$1.235 (81 US cents) by year-end.
| | |
| --- | --- |
| Overseas | Jennifer Lee, Senior Economist |
These are interesting times when a few of the major central banks are doing the equivalent of a 180. They've swung from being firmly rooted to their highly accommodative policies, to being forced to let go and start moving towards tightening. And fast.

The ECB is one that springs to mind. The hawks have taken over, but even the most dovish of doves found it increasingly difficult to shrug off the run of above-expected and record-high inflation readings month after month. The central bank decided at the March meeting to fast-forward its plans for the APP, by revising its purchase schedule dramatically (slowing down to €20 bln/mth by June instead of September). And, if the medium-term inflation outlook doesn't show signs of weakening, it could end the purchase plan in Q3. The forward guidance now states that a rate hike would come "some time" after the APP is finished, and President Lagarde admitted that those words were chosen deliberately and could mean weeks or months later. We believe that a rate hike could come as soon as the July 21 meeting. Although it would be logical to raise the deposit rate (currently at -0.50%) first, it is quite possible that the ECB could raise all of its key rates, including the refi rate (0.00%) and the marginal lending facility (0.25%) at the same time. Our Stephen Gallo, European Head of FX Strategy, believes the ECB is likely to attach a higher importance to exchange rate developments in the current high inflation environment, and sees the possibility of a hawkish shift in the interest rate guidance in the April policy announcement.

The other central bank that comes to mind is the RBA. It swung from its seemingly unwavering 'no rate hikes until at least 2024' stance, to 'we are prepared to be patient'; to a rate hike is 'plausible'; to, as of April 5, "The Board has wanted to see actual evidence that inflation is sustainably within the 2 to 3 per cent target range before it increases interest rates." That implies that it has seen what it wants to see, but might want to see a bit more. More evidence on inflation and the labour market will come in "coming months". The Q1 inflation report will be released on April 26, which means that the May meeting could set the stage for a June or July rate hike.

The BoE is already well into its tightening phase, and a third hike is expected in May. This central bank, however, is not expected to be as aggressive as its U.S. and Canadian counterparts, as consumer and business confidence has taken a sizable hit from the surge in energy prices, record-high inflation, and the coming hike in taxes. And, with the added uncertainty from Russia and Ukraine, the four hawks from February became less hawkish in March, and are expected to stay that way for now. As Governor Bailey put it, "we have not raised rates because the economy is roaring away"; instead, it is to bring inflation back to target. But the Bank is not likely willing to put growth at risk by being too aggressive.

That leaves us with the BoJ, suddenly looking very lonely on the sidelines. And that stance has knocked down the JPY sharply, as it hovers around 6½-year lows of ¥124. The Bank was forced to step in recently to defend its 10-year JGB target of around 0%, as the market tested its tolerance by hitting the upper limit of 0.25%. Given that Japan imports all of it natural gas needs, the BoJ's resolve will be tested as inflation climbs on the back of high energy prices.
Foreign Exchange Forecasts
You might also be interested in