Rates Scenario
May 11, 2022 | 13:12
Rates Scenario for May 11, 2022
Economist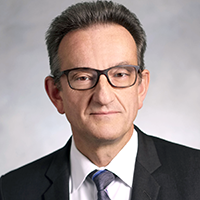 Deputy Chief Economist, Head of U.S. Economics and Managing Director
Economics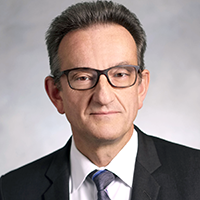 Deputy Chief Economist, Head of U.S. Economics and Managing Director
Economics
| | |
| --- | --- |
| Canada-U.S. Rates Outlook | Michael Gregory, CFA, Deputy Chief Economist |
Since our last Rates Scenario (April 6), we expedited expected Federal Reserve and Bank of Canada rate hikes a bit, with the latter profile lifted by 25 bps. We also modestly raised bond yields, by as much as a quarter point.

For the Fed, we now look for three more consecutive 50 bp moves instead of two before. On May 4, as expected, the FOMC raised the fed funds target range by 50 bps to 0.75%-to-1.00% (a 0.875% midpoint), with the statement asserting that "ongoing increases in the target range will be appropriate."

This was the first 50-pointer since May 2000 and, unexpectedly, Chair Powell stated that "additional 50 bp increases should be on the table at the next couple of meetings." This unprecedented policy signalling was designed "to avoid adding uncertainty to what is already an extraordinarily challenging and uncertain time." This is what Powell meant when he first alerted, in a seminal speech on March 21, that the FOMC would be moving "expeditiously" to push the funds rates up to "a more neutral level". Powell also said a 75 bp move "is not something the committee is actively considering."

The FOMC's latest projections of the neutral rate, a level that neither helps nor hinders economic growth, range from 2.00% to 3.00% with a 2.375% median. With Powell signalling the potential for 50 bp rate hikes on June 15 and July 27, we now judge the Fed will stay on this tightening track until at least September. (Previously we judged the FOMC would shift from 50s to 25s as it converged on the neutral level.)

Once hitting 2.375% in September, which was also the peak in policy rates last cycle, we still expect the Fed to temporarily pause in order to take stock of the inflation outlook and determine whether it's required "to tighten beyond common measures of neutral and into a more restrictive stance." Then, reflecting more policy caution, we look for the funds rate to be hoisted to the top of the neutral range via 25 bp actions every second meeting. This puts the peak in rates at 2.875% in March (three months earlier than we previously expected), and around the time Bank of Canada policy rates are still expected to peak.

For the Bank of Canada, we now look for two more consecutive 50 bp moves instead of one before. On April 13, also as expected, the Bank of Canada raised its target for the overnight rate by 50 bps to 1.00%, with the statement alerting that "interest rates will need to rise further." This, too, was the first 50-pointer since May 2000. Somewhat surprisingly, the Bank ramped up its hawkish rhetoric. Governor Macklem said there was a "need to normalise monetary policy reasonably quickly", raising rates "forcefully if needed". The latter likely meant continued 50 bp increments although a 75-pointer wasn't ruled out. Macklem also said that there was a potential "need to take rates modestly above neutral for a period."

And, unexpectedly, the Bank raised its estimated range for the neutral rate by 25 bps to 2%-to-3%. This one-two punch (more hawkish rhetoric, higher neutral rates) led us to call for a couple of 50 bp rate hikes on June 1 and July 13 to get the policy rate to the bottom of the new range, which (at 2.00%) is already above the 1.75% peak from last cycle. Once there, as before, we expect a brief pause ("it may be appropriate to pause hikes once we get closer to the neutral rate"). Afterwards, we expect more cautious 25 bp moves every second meeting with the policy rate peaking near the top of the neutral range (2.75%) by April. The peak's timing is the same as before, but the level is 25 bps higher.

BoC and Fed policy appear to be on the same page. First, there's the transparent quick/expeditious effort to get rates to the bottom/bottom half of the neutral range. Second, there's our expectation for pauses and smaller-sized moves as policy rates are ratcheted up within their neutral ranges. Third, there's the stated willingness to push rates above the neutral range if necessary. The first phase looks relatively certain, but there are widening confidence intervals around the second and third stages. Stubborn or accelerating inflation could compress the second phase and herald the third, tipping the risk of recession to at least even odds.

On the other side, global growth headwinds from the war in Ukraine, sanctions on Russia and lockdowns in China could weigh more heavily than their flipside inflation tailwinds. High inflation's erosion of purchasing power could take a bigger bite out of real spending. And, even neutral-ranged rate hikes could be more impactful with quantitative tightening unfolding alongside. It's going to be an interesting rest of the year.

QT cued: In their latest policy pronouncements, both central banks announced the start of quantitative tightening. For the Fed, QT will start on June 1. The final monthly runoff caps (above which flows will still be reinvested) are $60 billion for Treasuries (notes, bonds and TIPS) and $35 billion for MBS, phased in over three months. The initial thresholds were set at half these amounts, which will be held for three months before being lifted to the final figures on September 1. For the months in which maturities of Treasuries fall under the cap, T-bill holdings (currently $326 billion) will be run down by the amount of the shortfall. MBS principal payments were $40.1 billion in the latest month, and we expect these flows to fall under their full cap in the not-too-distant future as higher mortgage rates further dampen refinancing activity and home sales. After a while, a persistent gap could cause the Fed to consider small amounts of outright MBS sales to make up for the shortfall.

The Bank of Canada started QT effective April 25. Regular bond purchases in both the primary and secondary markets to replace maturing securities holdings were ended (these ran around a monthly $4-to-$5 billion pace). The Bank is allowing full runoff.

In the absence of outright sales, the impact of QT on the bond market is more muted. However, central banks' absent rollovers still result in more securities having to be auctioned to the market which should apply some upward pressure on yields (other things equal). And they do drain liquidity, which ripples over other financial markets.

Bond yields: Reflecting unfolding QT, stubborn inflation readings (see 0.6% m/m print for U.S core CPI) and more hawkish central bank rhetoric and action, we lifted our forecast for bond yields. The monthly average for 10-year Treasury yields is now expected to peak around 3¼% (up from 3% before), which is the highest level since 2011. And, importantly, we now expect the trend to remain above 3% through the end of next year (assuming recession is kept at bay).

With the BoC and Fed following comparable policy paths, we judge Canada-U.S. yield spreads should stick to their recent ranges. Canadas could underperform if the Bank's QT weighs more heavily on Government of Canada bonds than the Fed's on Treasuries. And they could outperform if already higher U.S. inflation readings filter more into inflation expectations and risk premiums.

U.S. dollar: In recent sessions, the trade-weighted unit has been flirting with two-year highs as the Fed's increasingly hawkish rhetoric and prospective actions have been in the vanguard of such developments among the major central banks. Meanwhile, increasing global economic risks owing to the war in Ukraine, sanctions on Russia and lockdowns in China have given the greenback an added boost. Presuming these risks eventually recede and other central banks catch up closer to the Fed in the tightening game, the U.S. dollar should weaken. But this could take a while; we see it stabilizing barely under current levels through the remainder of this year before dipping about 1¼% next year.

Canadian dollar: Amid the U.S. dollar's ubiquitous strength, particularly due to the increasing global economic risks perceived by investors, the loonie has been unable to find any sustained lift from the array of factors that would typically provide thrust. These include up-trending commodity prices, improving trade fundamentals (Q1 posted the best result in more than 13 years), and a Bank of Canada that is sounding and acting as ardently hawkish as the Fed. Once the greenback at least stabilizes and, importantly, the Canadian economy is more noticeably outperforming its U.S. counterpart thanks to the commodities sector, the above factors should increasingly have more influence. We still see the loonie averaging around C$1.235 (81 US cents) by the end of this year.
| | |
| --- | --- |
| Overseas | Jennifer Lee, Senior Economist |
If anyone was hiring for a central banker, the ad would say something like this: "Must be able to change one's mind on the fly, and be able to clearly communicate why, in order to minimize disruption to financial markets."

And central bankers have been very flexible lately, changing their stance as developments change. Take a look at the BoE. In early February, it raised rates 25 bps to 0.5% but four of the nine policymakers wanted a larger 50 bp move. Then Russia invaded Ukraine and the world was thrown into turmoil. The four hawks backed off at the March meeting and supported a 25 bp rate hike to 0.75% along with the other four, but one wanted to keep rates steady. At the April meeting, the war was still continuing, but inflation was worrying as it hit 30-year highs again. Three hawks returned, pushing for 50 bps, but were outnumbered by the rest who preferred a 25 bp hike to 1.0%. Alas, that wasn't the only disagreement. While "most members" felt that further tightening might still be appropriate in coming months, others didn't feel that way. All of this will come back to the economy and, while the BoE now looks for a 0.25% contraction in 2023, it also expects CPI to peak above 10% in 2022Q4, and that is what will force Governor Bailey to tighten steadily this year.

The ECB has also changed its stripes dramatically. It is still making monthly purchases from the APP but the program is expected to conclude in Q3; then, rate hikes could follow "some time" afterwards. This begs the question: When in Q3? President Lagarde had been cagey about the timing, but has recently revealed that it will likely be "early" in Q3, which puts a July rate hike into play. We see the deposit rate lifted first in July, followed by the refi rate in September and December. But do not rule out the possibility that the ECB will lift all the key rates (deposit, marginal lending, and refinancing rates) in one fell swoop.

One of the biggest policy changes came from the RBA. Back in November, it finally stopped referring to a specific year (2023) when it expected core CPI to be sustainably within the 2%-to-3% range (and thus, lift the cash rate). We believed that the RBA's rate hike criteria had been met earlier this year, when the trimmed-mean measure of inflation was already within the target for two quarters in a row, and export and import prices had been surging. But, Governor Lowe was still "patient"; that is, until April, when that adjective was dropped from the press release. The RBA then lifted the cash rate 25 bps in May to 0.35%, with more to come as inflation is expected to stay above target until 2024.
That leaves the BoJ. The central bank nudged its inflation forecasts higher for the current fiscal year (was looking for 1.1% in January; now expects 1.9%), and the country is finally experiencing some inflation. Tokyo's core CPI hit an over seven-year high of 1.9% in April. However, the BoJ is looking beyond these pressures and is firmly glued to the sidelines, with Governor Kuroda repeating the oft-used phrase that they will not hesitate to ease further if necessary, given the downside risks to economic growth. This has and will continue to spark continued weakness in the yen.
Foreign Exchange Forecasts
You might also be interested in