Rates Scenario
July 06, 2022 | 15:27
Rates Scenario for July 6, 2022
Economist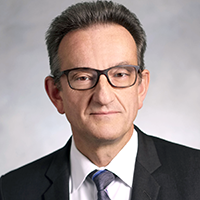 Deputy Chief Economist, Head of U.S. Economics and Managing Director
Economics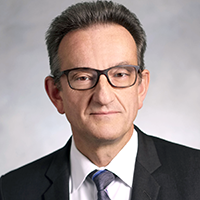 Deputy Chief Economist, Head of U.S. Economics and Managing Director
Economics
| | |
| --- | --- |
| Canada-U.S. Rates Outlook | Michael Gregory, CFA, Deputy Chief Economist |
Compared to our last Rates Scenario (June 9), we've lifted our year-end forecasts for Federal Reserve and Bank of Canada policy rates by 25 bps to the 3.25%-to-3.50% range. This was in response to stubbornly high CPI inflation readings on both sides of the border and the FOMC's more hawkish-toned policy pronouncements on June 15. As before, we expect both central banks to trim their incremental increases as year-end approaches amid some expected improvements on core inflation. And, we look for them to hold rates at their 2022-end levels through next year to ensure that inflation does indeed recede.

However, compared to being skewed to the upside before, we now judge that the risks surrounding our forecasts are more balanced. Apart from slightly higher rates, the risk shift reflects a weaker economic scenario through the turn of the year. Both U.S. and Canadian real GDP growth are now expected to grind to a near-halt compared to running in the low/mid-1% range before. In eliciting extra central bank tightening and eroding even more purchasing power, stubborn inflation is causing additional growth headwinds against a background of sagging markets and consumer confidence. The risks of the Fed and BoC having to hike rates to even higher levels because inflation fails to fall sufficiently are now roughly balanced against the risks of both central banks cutting rates next year. (The latter would pull forward our forecast for 100 bps worth of easing in 2024.)

Federal Reserve: The FOMC meets on July 26-27, and we expect a second consecutive 75 bp rate hike, lifting the fed funds target range to 2.25%-to-2.50% (2.375% midpoint). This is a critical range that incorporates the Committee's 2.50% median of its 2%-to-3% range of projections for the neutral level and matches the peak in policy rates from last cycle (which proved to be a bit onerous). In last month's post-meeting presser, Chair Powell said that "either a 50 basis point or a 75 basis point increase seems most likely at our next meeting". This suggested to us that it was going to be a 75 bp move unless there were major disinflationary surprises, and there haven't been. After back-to-back 75 bp actions, we're forecasting a 50 bp move in September, followed by back-to-back 25s in November and December (range midpoint at 3.375%).

Bank of Canada: The next policy announcement is July 13. After two consecutive 50 bp rate hikes, we're expecting a 75 bp increase, lifting the policy rate to 2.25%, or just above the bottom of the BoC's 2%-to-3% range of estimates for the neutral rate. In a June 9 press conference, Governor Macklem said: "We may need to take more interest rate steps to get inflation back to target. Or we may need to move more quickly, we may need to take a larger step". This reinforced the (June 1) policy statement's assertion that "the Governing Council is prepared to act more forcefully if needed." Afterwards, we're forecasting a 50 bp hike followed by 25 bp moves in the final two meetings of the year, which will leave the policy rate at 3.25%, a bit above the neutral range. That is consistent with Deputy Governor Beaudry's June 2 speech, when he said there was a "likelihood that we may need to raise the policy rate to the top end or above the neutral range to bring demand and supply into balance and keep inflation expectations well anchored."

Bond yields: After nearing 3.50% ahead of last month's FOMC meeting (3.49% on June 14) and hitting the highest level in more than 11 years, 10-year (constant maturity) yields have since dropped sharply to around 2.80%. Stoking the 70 bp rally was the post-meeting realization that the Fed was putting fighting inflation well ahead of avoiding recession. The market is betting that inflation can be brought under control without having policy rates stray above 3.5%; that inflation, both on the ground and in expectations, has probably peaked; and, that policy rates can start being cut next year.

We suspect that all aspects of this scenario will be questioned in the weeks and months ahead as the market grapples with what we reckon will be some still-stubborn inflation readings. With recession now on the market's mind, revisiting 3.50% yields could be more of a stretch, but this doesn't preclude another noticeable run higher. Partly pushed by the planned doubling of the Fed's quantitative tightening (QT) effort in September, we see 10-year yields re-peaking around 3.40% by year-end, around the time Fed rates peak. Meanwhile, we look for Canada-U.S. yield spreads to remain in their recent range.

U.S. dollar: After the Fed signalled a more aggressive monetary policy approach during March, in stark contrast to some other major central banks, the trade-weighted unit has been stronger. In the four months ending June, it's up a cumulative 4.4%, also supported by the war in Ukraine and lockdowns in China. Although other central banks have been jumping on the tightening bandwagon, some surprisingly so, the greenback has continued to rise on heightened concerns about global recession. This theme looks to continue playing for the remainder of the year, with the U.S. dollar gaining a further 2%. However, we look for some retracement next year.

Canadian dollar: Amid the U.S. dollar's recent strengthening, the Canadian dollar has been trading in a choppy but weakening pattern. The loonie was unable to garner any lasting support from the Bank of Canada's Fed-like aggressiveness or from stronger commodity prices. After averaging C$1.2814 in June, we look for the loonie to continue drifting weaker (to around $1.30) before ending this year back around the $1.28 mark. Next year's turn in the greenback should provide some further lift for the loonie.
| | |
| --- | --- |
| Overseas | Jennifer Lee, Senior Economist |
It is crunch time for the ECB. The central bank brought a lot of clarity to the table at its June meeting. It officially stated its intention to raise key interest rates (note the plural of 'rate' was used) by 25 bps on July 21. And, it expects to do so again on September 8 and maybe by a "larger increment" if the medium-term inflation outlook persists or deteriorates. And it has so far. Euro Area consumer prices beat expectations again in June with a record-high 8.6% y/y rate. According to insiders, some policymakers back in June wanted to say 50 bps for July, while a "large majority" did not want to make an announcement on fragmentation. Since then, there has been no shortage of ECB officials voicing their views on what size move they should make. A 50 bp hike in July is certainly possible, given the constant high-side surprises on inflation. That would be an aggressive, out-of-character move for the ECB, although these are special times. The more likely outcome will be a 25 bp hike in July, which we suspect will be made to the deposit rate, the main refi rate and the marginal lending rate, along with assurances of a larger move in September to satisfy the more extreme hawks. The ECB is also expected to reveal details behind their "new anti-fragmentation instrument" although how detailed those details will be is unknown given the highly political undercurrents behind the buying decision: how much, when and which countries' debt.

The BoE doesn't meet until August, but it is also under the gun. In fact, it is dealing with a different and potentially more difficult situation: inflation has soared to a 40-year high of 9.1% and is poised to go higher this fall, but the economy may already be in recession. In fact, the latest Financial Stability Report warned that "the U.K. and global economic outlook has deteriorated materially". That alone may prompt less aggressive, or more gradual, moves from the Bank. The nine-member monetary policy committee has been nearly split between 25 and 50 bp moves lately, with the thin majority landing on the 25 bp side. Now, the hawks may be losing one of their own. Incoming policymaker Swati Dhingra will replace the hawkish Michael Saunders at the August 4 meeting, and it sounds like she will be voting with the majority. She admitted that she would have voted for 50 bps earlier this month but that in hindsight, "there is some room for a very gradual approach here" and that "newer data is starting to show that possibly a slowdown has become much more imminent than we thought before". Plus, Governor Andrew Bailey declared that although more needs to be done, the Bank may not need to act "forcefully". We look for a steady diet of 25 bp rate hikes this year.

The RBA met on July 5 and, as expected, lifted the cash rate for the third meeting in a row, up 50 bps to a 2-year high of 1.35%. In fact, this was the second consecutive 50 bp move, something that this central bank has never previously done. This more forceful move was all based on inflation, as "global inflation is high", and domestic inflation "is also high, but not as high as it is in many other countries". Price pressures are expected to peak in late 2022, before heading back towards the 2%-to-3% target next year. Meantime, expect "further steps" to be taken to normalize policy as the Bank is "committed to doing what is necessary" to bring inflation back to target.

That leaves the BoJ on the sidelines while the rest of the major central banks make up for lost time by tightening aggressively. Inflation hasn't stood still in Japan; in fact, it has been edging higher. The core measure (which excludes fresh food) has been above the 2% target for two consecutive months, something it hasn't accomplished since 2014. But, higher inflation is not due to strong demand; rather, it is due to the passing down of high input costs. The Bank looks for inflation to decelerate as the "positive contribution" from energy prices is "likely to wane". So, don't expect Governor Kuroda to budge, unless the 24-year low yen becomes problematic.
Foreign Exchange Forecasts
You might also be interested in