Rates Scenario
December 15, 2022 | 15:19
Rates Scenario for December 15, 2022
Economist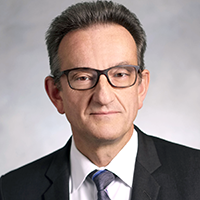 Deputy Chief Economist, Head of U.S. Economics and Managing Director
Economics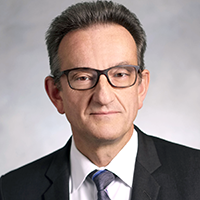 Deputy Chief Economist, Head of U.S. Economics and Managing Director
Economics
| | |
| --- | --- |
| Canada-U.S. Rates Outlook | Michael Gregory, CFA, Deputy Chief Economist |
Compared to the last Rates Scenario (November 9), we've lifted our forecast for the terminal fed funds target range by 25 bps to 5.00%-to-5.25%. We continue to look for a terminal Bank of Canada policy rate of 4.50%, with both peaks reached in 2023Q1.

After last March's inaugural (quarter-point) rate hikes by both central banks, we've been consistently impressed and occasionally surprised by the hawkishness of their rhetoric and the aggressiveness of their actions. They've talked the talk and walked the walk. Consequently, against the background of stubborn core inflation and wage growth, we've been regularly increasing our forecasts. The key catalyst this month was the FOMC's 'dot plot' which showed 17 of 19 participants now projecting a 2023-end fed funds rate above 5.00% compared to none just three months previously.

As policy rates stabilize during Q1, we look for real GDP growth to grind to a halt in both countries (0% average growth in 2023), probably displaying mild downturns for at least a couple quarters (enough to be considered short and shallow recessions). Nevertheless, we still expect the Fed and BoC to remain on hold for the rest of the year, assessing the impacts of their rate hike campaigns on inflation. We judge there'll be enough progress made to forestall further rate hikes but not enough to encourage rate cuts until early 2024. In both economies, we see the key inflation metrics still running above 3% by the end of next year, but on clear tracks to 2%.

The key risk to the inflation outlook comes from wage growth and excess labour demand, for the U.S. in particular. South of the border, the annual change in average hourly earnings increased by two-tenths to 5.1% in November and to 5.8% for production and nonsupervisory employees. The (non-smoothed) Atlanta Fed Wage Growth Tracker also increased by two-tenths to 6.5%. Meanwhile, the annual changes in the Employment Cost Index and productivity-adjusted unit labour costs were both sporting '5 handles' in Q3. These wage paces portend stubborn underlying inflation readings (despite the recent pair of lower-than-expected core CPI results), and they require weaker labour demand conditions to rein them in. Meanwhile, payroll employment expanded by a sturdy 263k in November with labour demand (payrolls + openings) in October just shy of its cycle high. At the December 14 press conference, Chair Powell repeated that "the labor market continues to be out of balance, with demand substantially exceeding the supply of available workers".

In Canada, the annual change in average hourly wages was steady at 5.6% in November, a pre-pandemic high. However, the growth in the Bank of Canada's 'wage common' metric was a relatively benign 3.1% in Q3. Although household employment expanded by a low 10.1k in November, this followed a strong 108.3k in October. Meanwhile, with job vacancies hovering near the one million mark since the spring, labour demand north of the border also remains sturdy and wage-inflation prone. "Canada's labour market remains tight" is how the BoC described it on December 7.

Both central banks are hoping that (policy-induced) weakening labour demand will fall more on the job openings side than on payrolls (minimizing the rise in the unemployment rate), slowing wage growth in its wake. If the peaks we posit don't do the trick (which is where the net risk still tilts), we would brace for even higher policy rates along with deeper economic downturns.

Federal Reserve: On December 14, and as signalled, the FOMC raised the target range for the fed funds rate by 50 bps to 4.25%-to-4.50%, a 15-year high. This was the seventh consecutive action for a cumulative 425 bps, which is the most aggressive tightening over a 10-month period since the Fed began targeting fed funds in the 1980s.

The policy statement repeated that "ongoing increases in the target range will be appropriate in order to attain a stance of monetary policy that is sufficiently restrictive to return inflation to 2 percent over time". In the presser, Chair Powell reiterated that "reducing inflation is likely to require a sustained period of below-trend growth and some softening of labor market conditions" and that "we will stay the course, until the job is done". In other words, more rate hikes are coming. We look for another 50 bps on February 1 and a further 25 bps on March 22.

In the Summary of Economic Projections and amid the wave of above-5% projections mentioned earlier, the median fed funds forecast is 5.125% and it wouldn't take much to raise it further (just three participants increasing their at-the-median calls). Reflecting the raised profile for policy rates, median real GDP growth was revised down for 2023 (by 0.7 ppts to 0.5% Q4/Q4) with the jobless rate revised up (by 0.2 ppts to 4.6% in Q4). But, despite the tighter policy, slower growth and higher joblessness, the median inflation projections were still lifted meaningfully (PCE by 0.3 ppts to 3.1% Q4/Q4 and core PCE by 0.4 ppts to 3.5%). This emphasizes how sticky the FOMC is now perceiving the underlying inflation process to be, and where the net risk to our Fed call rests… the upside.

Bank of Canada: On December 7, the Bank increased the target for the overnight rate by 50 bps to 4.25%, also the highest level in 15 years. Like the Fed, this was the seventh consecutive action but for a cumulative 400 bps, which, for the BoC, is the most aggressive tightening over such an interval since 1981. Signalling the possibility that this latest rate hike could be the last, the policy statement said: "Looking ahead, Governing Council will be considering whether the policy interest rate needs to rise further to bring supply and demand back into balance and return inflation to target." This contrasts to the previous statement (October 26) which said that "the Governing Council expects that the policy interest rate will need to rise further".

In a subsequent speech (December 12), Governor Macklem said: "We are trying to balance the risks of over- and under-tightening monetary policy. If we raise rates too much, we could drive the economy into an unnecessarily painful recession and undershoot the inflation target. If we don't raise them enough, inflation will remain elevated, and households and business will come to expect persistently high inflation. With inflation running well above target, this is the greater risk." To mitigate this latter risk and in the wake of what we expect will still be stubborn core inflation readings, we look for a final 25 bp rate hike on January 25.

Bond yields: October is standing as the high-water mark for 10-year Treasury yields this cycle, on a monthly average basis, at just under 4%. Although spot yields have since rallied back to the mid-3% range, we judge the market will take another run at 4%, as the Fed continues to tighten through March and stickiness becomes a common description of core inflation and wage growth. However, these levels, like October's, should prove to be fleeting with an economic downturn unfolding in 2023 and policy rate cuts teed up for 2024. It could be a round trip for 10-year yields, ending next year where they are ending this year. Canada 10-year yields should take their cues from their U.S. counterparts, with a slight bias towards less negative spreads.

U.S. dollar: The trade-weighted greenback averaged its highest level on record in October (series started in 1973), surpassing the previous peak at the onset of the pandemic in April 2020. The dollar weakened in November and is on track to do so again in December. After the Fed's relatively aggressive policy approach had strengthened the greenback, the prospects for reduced (if not ended) rate hikes are tarnishing some of its lustre. While global economic and geopolitical risks should continue to drive the currency as well, short of any flare-ups on those fronts, we look for the U.S. dollar's modest depreciation to continue next year (by almost 3% over the course of 2023).

Canadian dollar: The dominant driver of the loonie these days is the U.S. dollar. When the greenback hit its record high in October, the Canadian dollar averaged C$1.370 (US$0.730). To put this in context, in the past 18 years, the currency has only been this weak (or weaker) on two occasions, March-May 2020 at the onset of the pandemic and December 2015-February 2016 owing to the collapse in oil prices. But as the big dollar has since turned around, so, too, has the loonie, and we expect this trend to continue in 2023. After averaging around C$1.350 this December (US$0.741), we look for the Canadian dollar to appreciate 3.7% to C$1.300 (US$0.769) by the end of next year.
| | |
| --- | --- |
| Overseas | Jennifer Lee, Senior Economist |
The good news is: It looks like economic growth for 2022 was not as bad as everyone feared. The bad news is: Recession calls are getting pushed into late 2022 and 2023. This uncertainty is making central bankers' jobs that much more difficult as they continue to tighten in efforts to battle inflation rates that are far, far from target. But the year is ending with a notable twist as policymakers are all over the map, with some super hawkish and others less so.

On the uber-hawkish end is, surprisingly, the ECB. It raised rates 50 bps on December 15, a move which was widely expected. But, in efforts to appease those who wanted 75 bps (Austria, Netherlands, Slovakia, for example), it inserted some new language into the press statement. Citing upside risks to inflation, rates still need to rise "significantly" and at a "steady pace" to levels that are "sufficiently restrictive". It all goes back to inflation, where the risks are still "primarily on the upside", while the risks to growth are still on the downside, "especially in the near term". And, in a rare moment of clarity, one that could be construed as forward guidance, President Lagarde said that 50 bp moves can be expected for a period of time. The rate hike was very much a hawkish one.

Meantime, in Britain, the BoE also raised its Bank Rate 50 bps to 3.50% in December, but that rate hike was very much a dovish one. Look no further than the vote itself: six members of the Committee voted for the 50 bp move, while one voted for a 75 bp jump, and the other two put their hands up for no change. And, armed with the knowledge of what the Treasury plans to do on the fiscal front, the Bank tweaked its GDP estimates a bit higher for Q4 and tweaked its CPI forecasts lower for Q2 of next year. Inflation looks to have peaked, but it is still expected to stay "very high" in coming months. So, more rate hikes are coming, with more "forceful" actions if needed.

The RBA wrapped up the year with a 25 bp rate hike, bringing the cash rate (which began the year at 0.10%) to a decade high of 3.1%, the third in a row of that magnitude following three consecutive 50 bp hikes. Although the pace of tightening has slowed, the Bank's job is not finished. Even though inflation finally pulled back in October to 6.9% from the third quarter's 32-year highs, that is still more than double the upper end of the 2%-to-3% target range. Indeed, more work needs to be done and the RBA warned that it "expects to increase interest rates further" but it is "not on a pre-set course". We look for another 25 bp hike in February, and perhaps one more, albeit modest, hike of 15 bps in March, leaving the cash rate at an even 3.50%. Depending on how China fares as it reopens, there may be more work for the RBA if commodity prices come under pressure.

All year, the standout in the crowd has been the BoJ as it remained firmly glued to the sidelines with its easy monetary policy stance of negative rates (-0.1%), keeping 10-year JGB yields at around 0%, and purchases of ETFs and J-REITs and corporate bonds. We thought that the Bank would have tweaked its policy a little, such as by widening the band around 10-year bonds, but to no avail. Even as the JPY plunged to 32-year lows of ¥150 at one point in October, and the core CPI hit a 41-year high of 3.6%, the Bank did not blink, though the Summary of Opinions from the last meeting in October indicated that some are getting a little uncomfortable with the side effects of their policies. In any event, the official word remains that it will continue down this path until inflation stabilizes around 2%. But, the Board will probably revisit its policies once Governor Kuroda steps down in April. Although radical changes are unlikely, there is always a possibility of some tweaks.

Actually, the PBoC stands with Japan in that it is dovish; but, there is a difference in that the PBoC is making changes. As recently as November, it cut the reserve requirements for most banks by 25 bps, the first such move since April. And, in August, it trimmed its one-year loan prime rate (LPR) by 5 bps to 3.65%, and its 5-year LPR by 15 bps to 4.30%. China's economy has struggled mightily under the weight of COVID restrictions and slower demand by its global customers. Look for further easing in 2023, but the government has taken a step in the right direction by easing restrictions on its zero-COVID policies. The hope now is that there will not be another resurgence in cases, particularly around the Lunar New Year.
Foreign Exchange Forecasts
You might also be interested in