Economist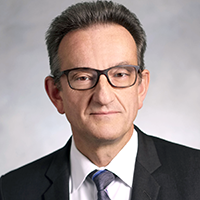 Managing Director, Deputy Chief Economist and Head of U.S. Economics
Economics
North America
We continue to look for Federal Reserve and Bank of Canada policy rates to remain at their effective (zero) lower bounds past the end of 2022. Although we expect U.S. and Canadian GDP to have recovered from the recession by around the start of 2022, given underlying potential growth in the 1¾%-to-2% range, both will still be sporting disinflationary output gaps well into 2023. Also, given policymakers' apprehension about the pandemic's potential lasting economic damage, along with its likely acceleration of (disinflationary) technological change, it appears that any shift toward monetary restraint is at least a few years away.

Meanwhile, in their forward guidance, both central banks emphasized stable policy rates past 2022-end. First mentioned in March, the FOMC's July 29 policy statement repeated that it "expects to maintain this target range until it is confident that the economy has weathered recent events and is on track to achieve its maximum employment and price stability goals." This was reinforced (in June) by participants' projections in which the median fed funds forecast remained at its current range midpoint (0.125%) past the end of 2022, with unanimity over this call through next year while only 2 of 17 participants pencilled in at least one rate hike for 2022.

Under new Governor Tiff Macklem, the Bank of Canada has begun using forward guidance again. In the July 15 policy statement, the Governing Council said it "will hold the policy interest rate at the effective lower bound until economic slack is absorbed so that the 2 percent inflation target is sustainably achieved." In the post-meeting presser, Macklem said "in order for inflation to be sustainably at the 2% target — in other words fluctuating closely around the target — output needs to be very close to potential", and that's not likely happening at least until 2023.

On both sides of the border, longer-term bond yields hit their post-pandemic lows at the start of August (10-year Treasuries under 55 bps, Canadas under 45 bps), as the recent surge in U.S. and global COVID-19 infections casts doubt on the robustness of the U.S. and global economic recoveries and, by default, Canada's. This, in turn, stoked expectations for current accommodative monetary policies lasting longer and/or becoming even more stimulative. According to Johns Hopkins University, the seven-day average of new U.S. coronavirus cases surged above the 67,000 mark by July 22, about triple the pace of late-May/mid-June, when the weekly average for 10-year Treasury yields ran in a range of 70-to-80 bps. However, the U.S. case rate trend has already slipped below 59,000 and looks to continue improving. Meanwhile, Congress and the Administration are attempting to get another economic support package concluded as soon as possible; our working assumption is for a compromise bill worth around $2 trillion. In turn, we look for longer-term bond yields to begin drifting back up, ending this year in the same trading range as a couple of months ago.

As 2021 unfolds, investors should start refocusing more on the bond market's medium-term prospects. Federal budget deficits are going to remain relatively large (as a % of GDP) for the next several years, running at levels that will keep the debt-to-GDP ratio drifting up. (This is what prompted Fitch's downgrade to the U.S. outlook to 'negative' in late July, and the downgrade to AA+ from AAA for Canada.) We suspect bond supply will become an increasing concern, once domestic and global demand for Treasuries and Canadas starts waning owing to rising investor risk appetites, reflecting, in turn, domestic and global business conditions becoming sturdier and less uncertain. This will also become a bigger issue once central bank purchases end. We judge QE should continue for at least the next year with tapering likely unfolding by the time GDP has recovered around the start of 2022. We've also pencilled in the Fed and Bank of Canada commencing very gradually-paced rate hikes in the autumn of 2023, which begins entering even a two-year-ahead window by the end of 2021. However, inflation expectations are not going to be moving up meaningfully, checking the yield uptick for longer-term tenors particularly. Ten-year yields on both sides of the border might only move permanently above 1% by next summer.

The (trade-weighted) U.S. dollar index also hit its post-pandemic low to begin August, unable to garner much support from the recent resurgence in new COVID cases. This is in stark contrast to the pandemic's initial panic when the greenback hit a record high (back to 1973) on March 23, perhaps as the dollar's medium-term prospects are already starting to press. The Fed has been very aggressive on the QE front and this dollar-unfriendly (other things equal) policy looks to continue through next year. Meanwhile, a massive Treasury budget deficit combined with a U.S. trade deficit no longer flattered by an improving energy trade balance indicate some eventual investor concern over the "twin deficits" and current account pressures. Add to this some near-term domestic political uncertainty (November 3rd election), along with the potential for more "risk on" than "risk off" days as pandemic fears finally recede, and you have the making of a persistent weakening trend for the U.S. dollar. The latter should be the major force pushing the loonie firmer.
Overseas
The end of the summer is around the corner and global central banks are finding themselves in a bit of a quandary. Although most of the economic data have pointed to the anticipated pickup in activity, the sort of pickup that occurs after a complete shutdown, the rebound has been faster in some countries than others. However, the worrying increase in COVID-19 cases has thrown a wrench in monetary policy and will keep policy accommodative for the foreseeable future.

In the Euro Area, Q2 GDP was about as expected.... in a word, terrible and for most, historic. But since then, the economy has rebounded. As of July, the Euro Area manufacturing PMI hit a 1½-year high, while services returned to pre-COVID levels. German manufacturing is growing once again; and, in France, it is rising at the fastest pace in nearly two years. Even Italy is expanding again. But, the surge in cases across pockets of Europe, particularly in Spain, will dampen growth. This new wave was enough to prompt the U.K. and Germany to issue travel advisories against vacationing in parts of the country. The ECB already has rates at record lows, and a series of QE measures to keep borrowing costs down and credit flowing. The additional source of support from the EU's €750 bln Recovery Fund, which all 27 leaders agreed to, is also a strong positive and takes pressure off the ECB.

The U.K. has yet to release its second quarter results but the story will be the same.....look for a devastating drop in real GDP. The British economy, however, has been slower out of the gate to recover, as it was slower out of the gate to reopen. The BoE has rates at a thin 0.10% and has raised its Asset Purchase Facility to £745 bln. It is prepared to act further, and it may have to this fall. One of the central bank's main concerns is the state of the labour market. The Job Retention Scheme, which currently supports around 12 million people, is scheduled to end in October and Chancellor Sunak is under extreme pressure to extend it, which he is reluctant to do. If joblessness surges, the Bank must be able to step in to provide support. Then, there is the issue of Brexit.

The BoJ is also on high alert, particularly as officials try to contain the latest outbreak of COVID-19 cases. In the oft-repeated words of Governor Kuroda, the Bank won't hesitate to take more easing measures if necessary. The JPY is expected to modestly strengthen further this year amid a broad USD retreat, but then, lose ground in 2021 amid a further global recovery.
Foreign Exchange Forecasts
You might also be interested in